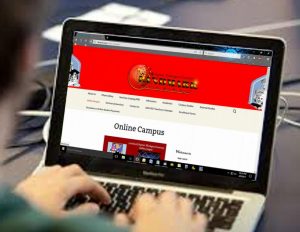 Becoming an Online Student at Landmark Baptist Theological Seminary is as simple as a few clicks. The following information and links will help you get enrolled in LBTS and get started on your degree.
---
Becoming An Online Student
 At Landmark Baptist Theological Seminary we understand there are many people interested in preparing for that special career as Pastor, Christian Educator, Christian Counselor and more. Unfortunately too many times they are held back by the need to balance family, career, finances and faith. You will find at L.B.T.S. we have endeavor to create a dynamic and fully accredited online Seminary to fit people's busy lives.
Providing the Online Studies Division enables full-time pastors to complete their Degree program without leaving their pastorates, as well as those who are unable (for whatever reason) to attend class on campus. L.B.T.S. does offer full Degree programs through Online Studies, and the tuition is the same as for our Campus or External programs.
We welcome you to study and grow with L.B.T.S. online and get the degree you want right where you are. So don't wait, click on Admissions and get started on your future now!
---