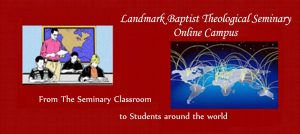 Welcome to
our new
Online Campus
website.
Very soon students will be able to study Online with Landmark Baptist Theological Seminary. The Online Studies Division is being developed at this time. The Seminary, (whether it be Campus Division, Extended Division, External Division or the upcoming Online Division)  is an Accredited member of the Accrediting Commission International.
We believe that we have the faculty, the programs, and the experience to provide our students with a quality education. We can prepare them to be preachers, missionaries, evangelist, Christian workers, laymen, Bible teachers with the ability to properly present of the Word of God.
The Online Studies Division makes it possible for those who desire a quality education, but are unable to enroll in our Campus Program, because of schedule or geographic location, to continue their education in the privacy of their own home and at their own pace.
By providing the Online Studies Division L.B.T.S. is enabling full-time pastors to complete their Degree program without leaving their pastorates.  L.B.T.S. does offer full Degree programs through the Online Studies Division.

Online courses are available on the L.B.T.S. website. The online classes are taught in a flexible, virtual classroom environment, allowing students to complete assignments on their own schedule. The faculty for the Online Campus are the same academically qualified pastors that teach at the onsite campus, each having many years in the teaching ministry.
All the undergraduate and graduate level degree programs available on campus are also available to L.B.T.S. online students.

Prospective students may:
Online students may:
Attend L.B.T.S.  via online classes
View enrolled classes using the L.B.T.S.  online course library
Study from their home or office, at their own pace, and at a time that fits their busy schedule.
So don't wait, click on Admissions and take the first step in furthering your Christian Education.
Please feel free to contact us at 817-838-7184 or by Email Contact for additional information about our Online Campus Studies.
Thank you for visiting our site. We would consider it a privilege to help you complete your educational goals!
[Please know the Online Campus is still under construction, so there may be a few links not working, or leads to a page that does not provide all of the info you're looking for. We do apologize for any inconvenience and ask that you check back periodically for updates on the online Campus.]